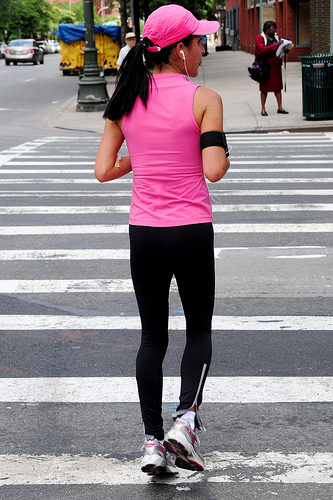 Hello My Friend!
Along with my clients, my work keeps me growing and learning and over the years I've collected quite a lot of informal research and insights about habits, success and how one impacts the other. There are certain habits that the vast majority of truly successful people have consciously developed because they understand their foundational importance.
The people I speak with – through training, coaching and conversations – are usually trying to excel and get better at some aspect of their life: they have a strong desire for moving forward by improving their ( or creating new ) success habits. They have learned through all their effort and experience that certain habits lend themselves to forward movement and success, more than others.
These listed below are the MOST popular among people who are informed, highly successful and passionate about self-development, habits and success. These powerful success habits will give you the "biggest bang for your self-development buck," because each of them incorporates the grandfather of all habits: SELF-DISCIPLINE.  And this of course leads to self-mastery.
I suggest you reflect as you read…are you where you want to be with each of these habits?  On a scale of 1 – 10, where are you and how can you improve?
Which one habit do you consider to be THE MOST IMPORTANT success habit ( a habit a person MUST have if they wish to be successful) of all time? Perhaps that is the one you need to focus on… 
Top 16 Success Habits: (not in any particular order)

1)    Bedtime/Wake-up routine that WORKS: – Going to bed early enough to get up at the time needed to have the day start right is a habit successful people ALWAYS reference as a key to their success. Obviously our bodies and minds REQUIRE adequate sleep and rest to have us function at our highest and best. I know this for sure…rising early enough to get those quiet things done (reflection, meditation, prayer, writing) positively impacts the rest of my day every single time.

2)    An attitude of gratitude:  Having a habit of saying and meaning "thank you" throughout your day is powerful. What we are grateful for expands in our life. I'm presently [as it has not always been the case] in the habit of saying thank-you for the challenges as well. They really are tomorrow's blessings. This has been demonstrated more times than I can count.

Thank everybody for everything – not just with words, but with your attitude and actions. Be grateful!

3)    Reading and Learning: Being on a continuous quest for knowledge about the world, countries and cultures, yourself, your work, your skills and talents, parenting, health, technology, etc. Live with your mind open to new experiences and they will come.

4)    Exercise: Need I say more? Whether it's in the gym, garden, nature walks or play…all successful people schedule some sort of physical activity that keeps them alive, healthy and well. Combining exercise with something you are learning — like dance, is a great way to be active AND have fun all at once.

Exercise is not by necessity something we should dread and hate doing…CHANGE YOUR MIND about it! Decide to make it fun and choose wisely. Pick an activity you enjoy and do it with someone you love. (I chose Zumba with my husband and we learned some great dances along the way!)

5)    Eating well: Another obvious one. Limiting caffeine, alcohol, sugars and general junk food is essential for good health. Making sure to consume healthy foods, rich in all the vitamins and minerals our body requires for optimum performance is an essential aspect of success.

Successful people understand that their diet (which includes being properly hydrated throughout the day) is directly linked to their creativity, energy level, mindset, emotions and productivity.

6)    Accountability: Holding yourself accountable for what you say and do is a must if success is what you seek. A successful person's word must be their bond. Your integrity and success depends on your accountability. 

When we are accountable for our intentions – we say, out loud to listening ears, what we intend to accomplish, we are much more likely to achieve those goals not only because we know it is expected of us but more importantly we expect it of ourselves.

This is closely linked to the next habit common among highly successful people…

7)    Affirming and Visualizing: We MUST experience our success internally before it can manifest externally. We MUST believe it before we can achieve it. Affirming and visualizing is how we speak to and make use of our powerful reality-creating imagination. 

Successful people's self-talk is passionate and persistently powerful. We affirm to ourselves over and over that which we wish to act upon…we affirm all day long, without even thinking about it, eventually; before this becomes a habit, we do have to plan it and think about it in order to combat the often negative self-chatter that prevails among those trying to be successful.

Affirming becomes visualizing when we add pictures and story-lines. It's not more complicated than that!  To be successful you must say and see what you are trying to achieve, along the way, every day.

8)    Organization: It is the exception to be able to achieve great success in the midst of chaos.  We are created with an appreciation for order and organization…how our body functions is the best physical example of the importance of the two. Each organ has its role; there are functions, hormones, cells and nerves dedicated specifically to certain desired outcomes – our body performs like a symphony, on a good day, all parts playing their role to perfection so we can continue to breathe, walk, talk, speak, write, laugh, think, feel, etc. etc… So who are we to buck this trend!?

To achieve goals, successful people put their thoughts, actions, homes and businesses in order.

We need to find what we need when we need it. We need to chronicle our findings on any given topic if we hope to master that area of expertise. We need to create order and space in our environment so creativity and productivity can flow easily. We need to clear away what is old and no longer needed to make space for the new and essential.

Organization is beautiful, it makes it possible to see and experience the beauty of our lives.  Successful people are highly organized.

9)    Effective Communication: Successful people communicate their ideas – first to themselves and then to others. We must be able to discuss and solve challenges without creating mountains out of molehills. We have to effectively express our thoughts, feelings and insights.

To get people to jump on board and support our team, cause or business, we have to explain the essentials to them effectively and passionately. To conduct happy and rewarding relationships, we have to share our thoughts and feelings comfortably with loved ones.

There is no success without the habit of effective communication.

10)   Goal-Setting: The whole business of success depends upon the concept of seeing something you want ahead of you, going after it and achieving it. That process is called goal-setting. Deciding to set personal improvement goals is an essential first step fo success. Having a habit of moving forward with deliberate and conscious effort and being mindful of improvement along the way is the very foundation of success.  

Effective goal-setting and goal-getting is the essence of success.

11)   SMILING: Yes, smiling :-).  I've worked with several people and actually live with one very successful person – my husband, who has worked on "smiling" as a priority habit.

It's not just about the smile…it's the spirit of optimism behind it. It's the commitment to joy and laughter behind it. Optimistic, joyful people produce more and do more. Did the success lead to the smile or the smile to the success? Well a whole book can be written about that one…suffice it to say, if all a person has to smile about is their tangible, daily success, they are anchored to a moving target and are dependent upon outside factors; Not a good thing.

Smile easily, frequently, deeply, regardless of daily circumstances! It's a tonic for the mind, body and soul. Smiling breeds optimism and optimism breeds success – the real lasting, internal kind of success.

12)   Being STILL…that would be the habit of PAUSE: As with sentences – can you just imagine this blog without punctuation?! So is a life without stillness and pause and rest. Be still long enough to connect to your source. For me that is God.

Successful people know how to tune out and get re-energized. Stillness is the most powerful way to do this. It's called meditation by some. But don't get confused with technique, just get still, get present and permit your mind to concede 'power' and control.

Thoughts and thinking can really keep a person busy, even when they're sitting still. The idea is to tune into your deeper source, not your patterned thoughts and self-centered cares.

13)   Deep Breathing: . ..which by the way is what you can do when you pause throughout the day. Breath, deep breath is a habit that is MOST understated and underestimated. It's actually not one that gets mentioned often by folks I coach. But I have to bring it up because it's pivotal to success.

Breathing from your diaphragm is breathing to excel. That's the kind of breath that pushes the needed substance into our blood stream to our brain. We simply need oxygen and all that's in it for energy and LIFE! Ask any high performing athlete or performer, they will tell you about the power of breath.

14)   Patience & Calm: This is the habit to develop if you struggle with anger, intolerance, hasty decisions, dependencies, worry, anxiety, disorganization, and more.

Having a habit of patience allows you to remain present – not in the past, full of anxiety and not in the future, full of worry. Of course there are other characteristics and habits ( like breathing, self-control, faith, etc.) that would need to be developed to support this place of patience and peace.

Successful people know what the "small stuff" is and they know how impotent and ineffective it is to fight against circumstances outside their control.  The most successful people are wise people!

15)   Forgiveness: Having a habit of letting things go, releasing, not taking offense, not holding on to guilt is most powerful. Taking offense, holding grudges and malice, hurt feelings and taking things personally SAPS your energy. A forgiving mindset allows you to release all this baggage and actually, it helps you to not be offended in the first place.

Successful people are able to keep their eyes on the important things; they don't let themselves get weighted down with any excess baggage. And of course, with this habit and mindset of forgiveness, patience, calm, inner peace, joy, stillness, smiling, gratitude, creativity, kindness, productivity, self-discipline…all flow naturally and powerfully.

16)   Benevolence: Now some people may debate this one…I've heard it so many times "I've known so many people who are able to be successful – in a big way, without being nice, kind or benevolent!" I say it depends on your definition of "success."

If success is seen as simply a matter of material rewards – then, point taken. BUT I say, even in these cases, this brand of success will be short lived.

Now if you regard true success to be whole and balanced and not self-centered, incorporating all Five Vital Venues of your life, then you will be unable to achieve that quality of success without a habit of benevolence. In this light, success is motivated by a benevolent spirit. 

With this view of life, we seek success because we want to help others; kindness prevails and permeates all we do. We are filled with love for those close to us and those we don't know.

We are simply benevolence or love in action. Our success is not just about us and our small circle of loved-ones, it is about impacting the world. THAT is true and lasting success.
I know…#'s 2, 14, 15 & 16 are not as simple and straightforward as the others…they require more soul searching, but you can create specific daily action steps designed to build these success habits into your life. As for the others, they each require a commitment that is lasting and anchored to your plan for your life.
These are the habits people – super successful people – have identified as having the most impact in their lives.  Working on these helped them to develop the essential habit of self-discipline, and eventual self-mastery…not just in their business life but in the entire of their life – personal, relationships, community, home life and work life.
These are habits that help you to impact the world and to make the difference you were born to make.
They are also the  "watershed habits" of success; create these, and all others will follow.
So look over this list again and select one or two to focus on over the next 21 days. If you'd like to sign up for a free 21-day, e-coaching, email program, you can do so here.
Wishing you an abundance of peace, joy and productivity,
~♥~
photo credit: Ed Yourdon via photo pin cc